Nakoma Project
While practitioners of the International Style, such as Mies van der Rohe and Le Corbusier, elevated the exposure of structure and "weightlessness," Meyer strove to balance the conflicting tendencies of maintaining spaciousness while providing substance.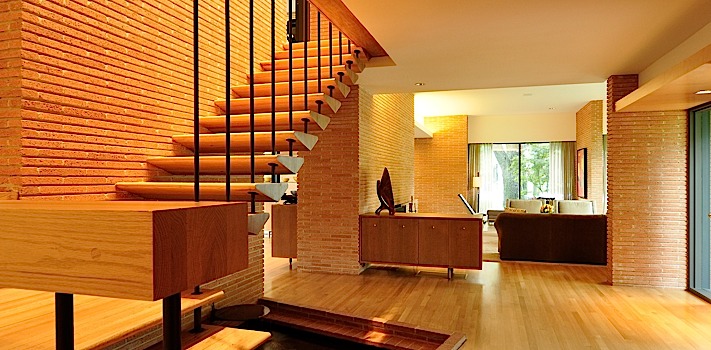 Modern Residential in Dallas
Symbiosis of Modernism and the Texan Vernacular
Built in 1951 for Mr. and Mrs. Ben Liphsy in Dallas, Texas, the Nakoma Residence would come to symbolize Howard Meyer's cohesive architectural aesthetic. Having toured the most acclaimed Modernist residences and having met Le Corbusier himself in 1928, Meyer had a significant and unusual education that allowed him an immersion into the modernist aesthetic. As a result. Meyer had cosmopolitan perspective that many American architects of the time lacked. The principles of the International Styles would become prevalent in the Meyer's designs through his free-flowing arrangement of space and simplicity in rectilinear forms; however, the architect felt the need for connectivity to site and greater substance that could not be found in the "lightness" of Modernist architecture. As much as Meyer admired Le Corbusier and his Toward a New Architecture (1921), he additionally borrowed from the craftsman-centric and honesty-to-materials of the American architect Frank Lloyd Wright. Through Meyer's wealth of knowledge regarding the International Style and his prevailing interest in indigenous materials, the Nakoma Residence comes to be an adept reconciliation of Modernist expressed in indigenous materials to be in harmony with the local circumstance.
Sources: Newby, D. (n.d.). Architecturally Significant Homes. In Howard Meyer- Greenway Parks Modern Home. Retrieved from Doug Newby & Associates website http://www.dougnewby.com/ Architecture/Architecturally%20Significant/5381nakoma.asp