Rockbrook Residence
Howard Meyer completed a residential design with his Rockbrook project. The project was completed in 1956.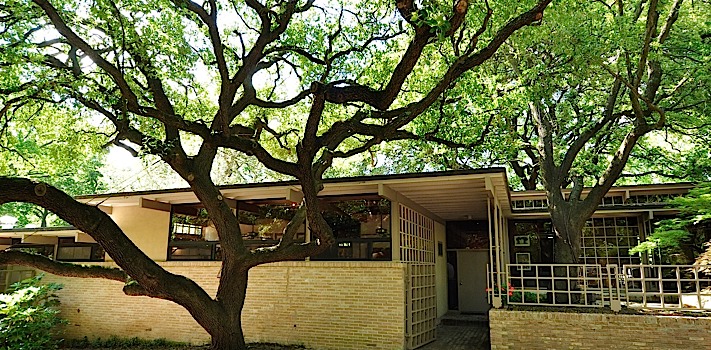 Meyer and Residential Design
Juxtaposing Geometry and the Organic
In 1956, Meyer brought about the realization of a residence for Mr. and Mrs. Milton Tobian. Employing International Style vocabulary, the Rockbrook Residence relies heavily on a palette of rectilinear forms in consonance. While the planar nature of the architectonic forms provides a sense of stasis, the dynamic nature of mature live oaks and other surrounding forms of vegetation visually provides a harmonious arrangement of the built environment and nature.
Nestled under the canopy of oak boughs, the flat roof overhangs complement the natural shading structure of the trees. The idea of analogous, man-made and natural structures becomes evident at the Rockbrook Residence and later becomes a motif throughout many of Meyer's pieces.. The use of sunshades, porches, pagodas, and other forms of man-made shading devices requisite in mediating the Texas climate.
With the completion of this Rockbrook Residence, reveals a progression within his architectural aesthetic. Whereas Meyer's Nakoma Residence illustrates a strict adherence to Modernist principles in respect to materials, the Rockbrook Residence begins to convey a greater responsiveness to the indigenous material palette. Composing soft Mexican brick and redwood posts and beams against large expanses of glass, Meyer portrays a domestic project decorous of the North Texas location.
Clark, C. (2010, April 29). Regarding Architect Howard Meyer. Interview presented at Howardmeyer.org.