Nakoma Project
While practitioners of the International Style, such as Mies van der Rohe and Le Corbusier, elevated the exposure of structure and "weightlessness," Meyer strove to balance the conflicting tendencies of maintaining spaciousness while providing substance.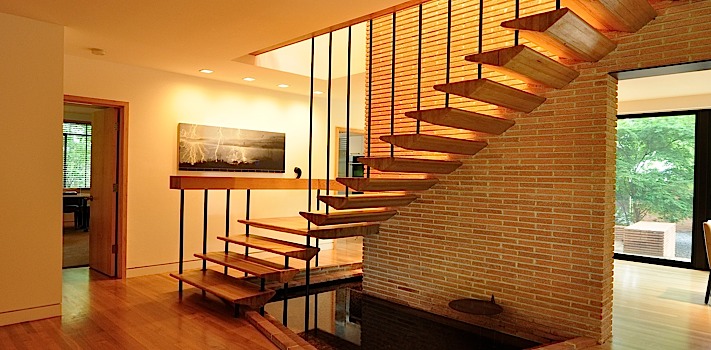 The Elements of 5381 Nakoma Residence
Dedication to Materiality and Site
Blending elements of modernism and organicism (preface that), the Nakoma Residence reveals a balance of the somewhat contradictory architectural stylings. Prior to the Nakoma Residence, Meyer seems to more strictly follow the Wrightian architectural precedents. However, the Nakoma Residence reveals Meyer's newfound sense of sophisticated International Modernism. In place of sloped eaves and irregular stone wall conventions of Wrightian Prairie Style, the Nakoma Residence reveals a stronger influence of Modernist principles with its playful arrangement of rectilinear forms and flat roofing system.
Enlivened by the combination of concavities and convexities into the façade, the Nakoma Residence attains a textural complexity through the juxtaposition of simple geometric forms. Although the volumetric massing of the Nakoma Residence pertains to Modernist principles, Meyer's pronounced sense of horizontality and responsibility to the materials lends to his commitment to site, nature and Frank Lloyd Wright.
An All-Encompassing Interior
As Meyer exhibited a rich counterpoint of architectural form, the architect similarly engaged with contrasting color and texture. The vibrant orange-hued flat Roman brick laid in perfect rows with mortar raked, in Wrightian manner, only in the horizontal joints emphasizes the lengthiness created in the form of the house while brilliantly contrasting the emerald-colored Bermuda grass. While working architectonically and chromatically, the flat Roman brick serves as an essential material element to Meyer's integrated architectural aesthetic.
Meyer's responsiveness to materials continues through his use of grey-stained redwood planks that work not only to accentuate the horizontality stemming from the influence of the Texas plains, but also to demonstrate the use of native materials.
Sources: Preservation Dallas, & The Dallas Architecture Forum. (1997, November). Howard Meyer: Temple Emanu-El and Other Works. Dallas: Preservation Dallas.