Rockbrook Residence
Howard Meyer completed a residential design with his Rockbrook project. The project was completed in 1956.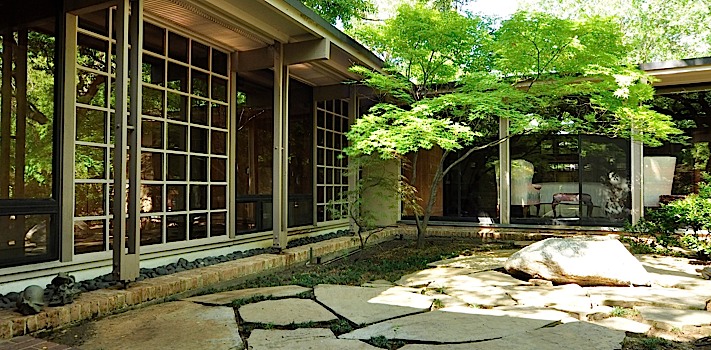 Architectural Influence on Howard Meyer
An Essence of Japoisme
Manipulations of spatial divisions, connectivity of interior and exterior areas, and reliance of the interplay of the natural with geometry are among several of the espoused principles s of Modernist movement borrowed from traditional Japanese building practices. The beauty in the simplicity of Japanese architectural ideologies becomes apparent in Meyer's Rockbrook Residence.
This gesture, reminiscent of traditional Japanese shoji screens, adds a new dimensionality to Meyer's Modernist qualities. Rooting the architecture detail in geometric measure, the Rockbrook Residence depicts an essence of both Modernist and Japanese influence.
The U-form massing around a central courtyard at the Rockbrook Residence additionally reveals a strong Japoisme tendency. As the architectural form of the home embraces a moment of nature, one cannot deny Meyer's motive in creating a space with a strong focus on providing reflectivity to nature, a practice often employed in Japanese architecture. As a large majority of the interior spaces peer out onto the courtyard, Meyer clearly relates his intention for an overwhelming tie to nature. The tectonic features employed by Meyer at the Rockbrook Residence even have an air of this eastern Asian influence with a pared-down dougong system conveyed through an intertwining of horizontal and vertical supports.
Additionally, asymmetric and dynamic arrangement of vegetation within this courtyard evokes Meyer's unique incorporation of Modernist take on traditional Japanese building culture.